OUR STORY
Allergen-free bread with benefits you can feel.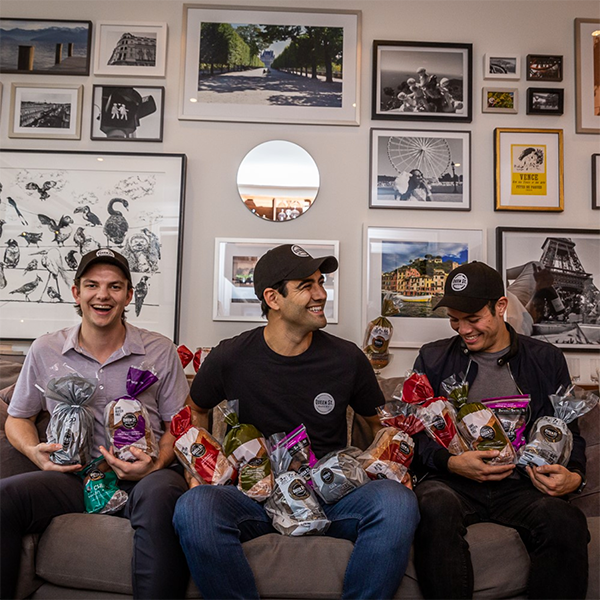 How It Started
"With grandparents and parents who emigrated from Italy, I grew up eating food that we planted, harvested and cooked ourselves.
Because I saw first hand the way my Nonni (grandparents) used our homegrown and fresh ingredients to cook, I always knew what went into the food I ate and it always felt good after. I didn't realize until I was older how not everyone had the same experience or relationship with food.
Unfortunately, so many of the products you come across today, including and especially those you think are 'healthy', contain very little nutritional value, a lot of sugar and unnecessary ingredients. To add, they often leave you feeling bloated and tired, which we've affectionately started to call " the bread-hangover."emigrate
OUR PROMISE
"At Queen St. Bakery we take it right down to the basics and back to the beginning. We only use ingredients that are naturally full of the stuff that your body needs and naturally free from the stuff that it doesn't. With ingredients like chia and beans instead of wheat, rice and corn, our bread is both gluten free and full of nutrients like magnesium, calcium and iron plus all of the good fibre that promotes gut health. Overall, I eat better, feel better, and have more energy, which is rare to say especially when you're talking about bread."
Giovanni Angelucci – Founder/CEO
Supercharged with Nature's Superfoods
Chia Seeds: Protein and Fibre
Chia's one tiny super food. With 3x more iron than spinach, 5x more calcium than milk and 8x more Omega-3 than salmon, these itty bitty protein-packed seeds will make you feel stronger and keep you full longer. Cheers, chia.
White Bean Flour: Rich in Minerals
With its delightfully mild taste and smooth texture, white navy beans make a remarkable flour that boasts cholesterol-lowering dietary fibres and vital bone-building minerals such as magnesium and phosphorus. They're also an excellent source of vitamin B1 (thiamin), vitamin B9 (folate), manganese, copper and iron.
Sorghum Flour: Healthy Phytochemicals
Sorghum is a naturally gluten-free ancient cereal grain full of benefits, including high levels of unsaturated fats, protein, fibre and minerals such as calcium, phosphorus, potassium and iron. Remarkably, sorghum has been found to contain even more antioxidants than blueberries and pomegranates. Studies suggest that certain phytochemicals in sorghum help reduce the risk of certain cancers more than other grains. It has also been shown to lower cholesterol and support cardiovascular health. Who knew a grain could do all that?
Millet Seed: Marvelous Magnesium
This ancient and wholesome gluten-free grain is a great source of dietary fibre, iron and vitamin B-6 (pyridoxine), and provides plenty of protein and potassium. Most importantly, it's a rich source of magnesium. Studies have shown magnesium can help reduce chronic pain, the severity of asthma and the frequency of migraines. It's also excellent for cardiovascular health and even helps to reduce the risk of type 2 diabetes.